June 17, 2022
Cardinals,
Summer Vacation is officially underway and I hope everyone is able to enjoy a little time away to relax and engage in some fun activities with family and friends. Within our school district the pace has not slowed down, it has just shifted to working on the 2022-2023 school year. We are busy preparing for all of the excitement of yet another school year with some outstanding new staff members, exciting programs, and a few other changes.
Since the end of the 2021-2022 school year the administration and staff are focusing on a few things to make the Newton Community School District a better place. On June 9th and 10th school personnel and law enforcement officers from throughout Jasper County worked on a very important topic - school safety. The training delivered by national experts dealt with threat assessment and adds a level of prevention to our school crisis plans. Schools are now developing a plan to help identify different situations which could pose a threat to the overall safety of our schools. This will help strengthen our ability to proactively address potential threats in our buildings.
Another area of focus is our district communication. A communication plan is being built which will help our students, families, community members, and staff know where to go for information and how communication will be delivered. Our goal is to make certain our communication is predictable and effective. The communication plan will be delivered and publicized once complete. The plan will be a work in progress and may need to be altered once in place but it will be a great start to ensure we are reaching everyone with an interest in our district.
The above items are not the only things being worked on but are two of our most important items to help engage our families and community in the Newton Community School District and protect the safety of everyone. You will be hearing more about our new staff members and excellent programs in the weeks to come. Until then, be safe, enjoy your summer, and thank you for being a part of our Cardinal Family!
Yours truly,
Tom Messinger, Superintendent
Newton Community School District
Alumni Weekend
It was a fun weekend celebrating the Alumni of Newton Community School District! From enjoying the decorated windows to celebrating with their classes the Alumni were glad to celebrate their time at Newton.
Summer Meals Program
Newton Community School District has many options for students for School Lunch over the summer! Emerson Hough is providing lunches in person at the school Monday through Friday, Berg Middle School and Newton High School are providing grab and go on Mondays and Thursdays through June 27th, and WEST Academy has a great Food Pantry program for their students.

Board Member Feature
Ray Whipple is passionate about Newton Community School District and the students in it. Learn about his involvement with the School District!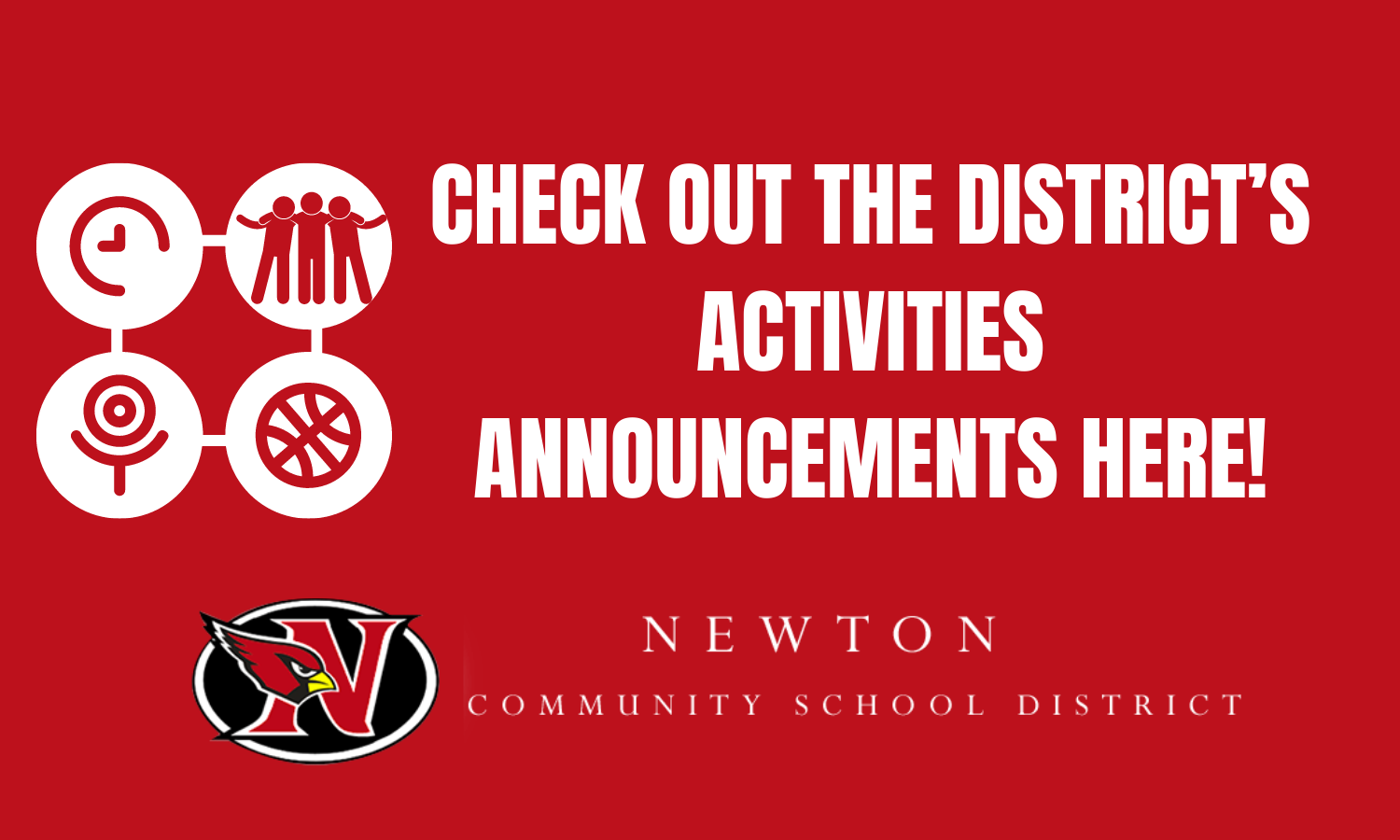 See the latest updates on Middle School and High School Activities and follow us on Facebook and Twitter for daily updates on activities and results!

Sign up for summer camps and activities here- https://ia.varsitybound.com/schools/newton/camps
District - 11:00 am - 12:30 pm
June 6 - August 5, 2022 (Monday - Friday)

Emerson Hough (700 N 4th Ave E)

Click Here for the menu - June 2022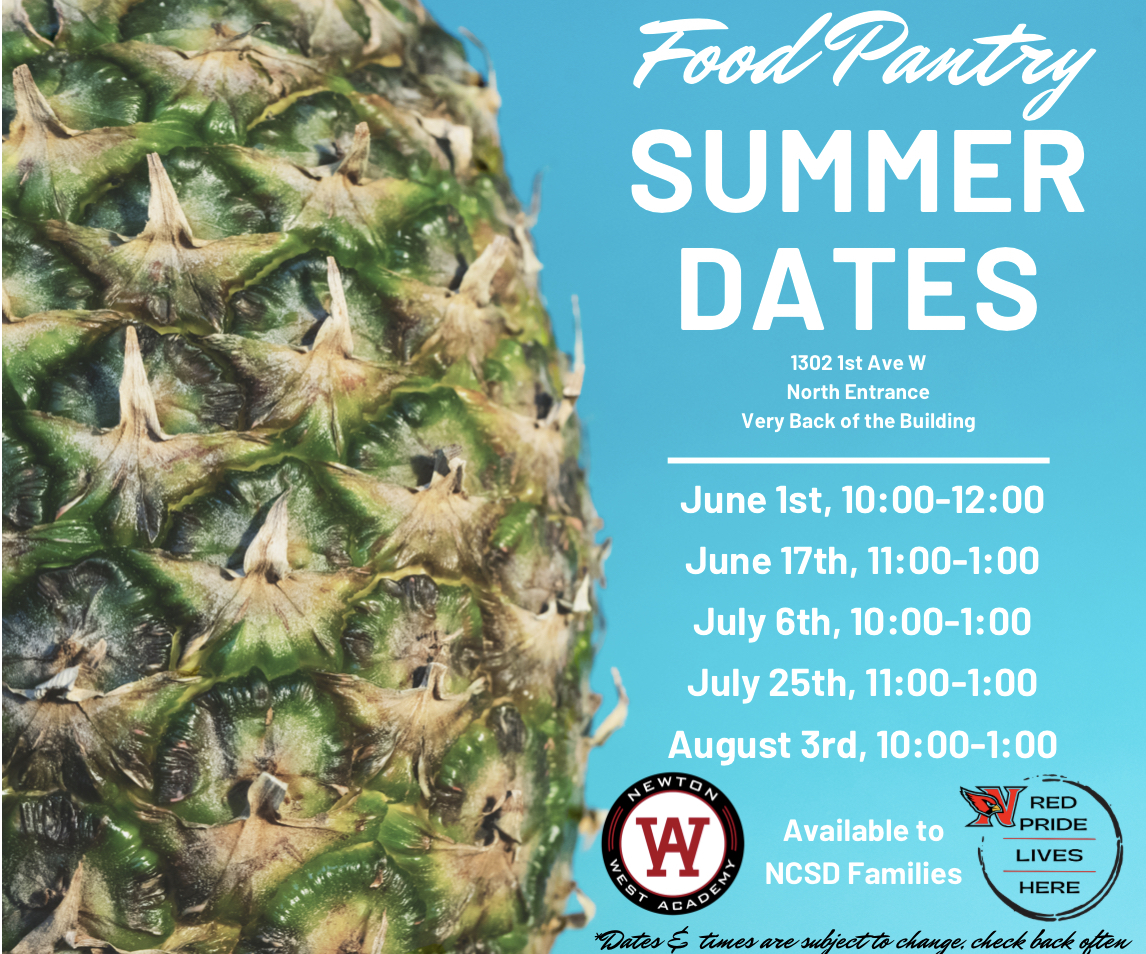 Check out board highlights from June 13th here!
PRESS RELEASE: TPRA Pilot Program
The Newton Community School District was recently awarded a $1,103,269 competitive grant as part of Governor Reynolds' new Teacher and Paraeducator Registered Apprenticeship Pilot Program to grow Iowa's educator talent pipeline and support expansion of registered apprenticeships in schools across the state.
Learn more about the Pilot Program here!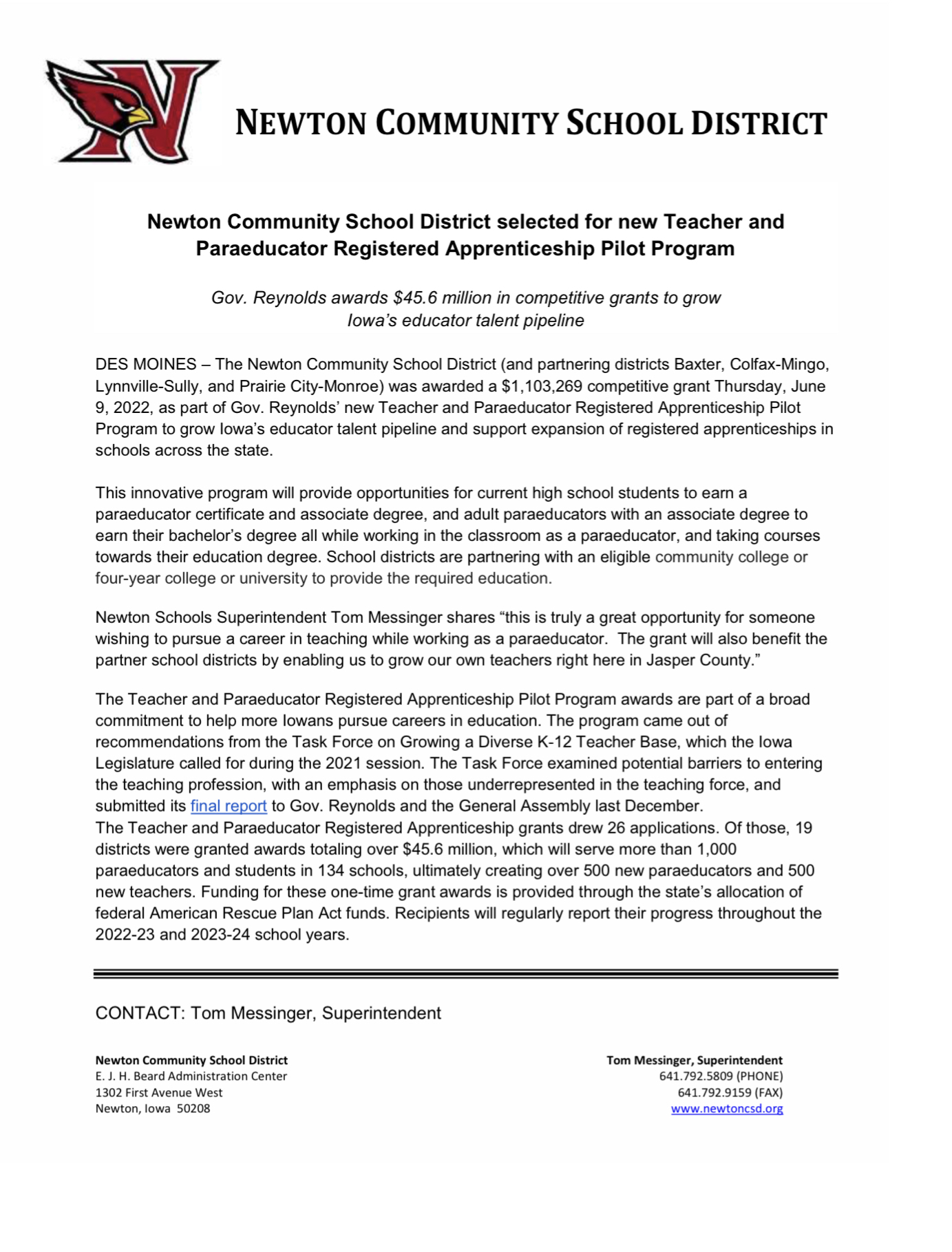 ---